Meet Dr. Gregory J Nielsen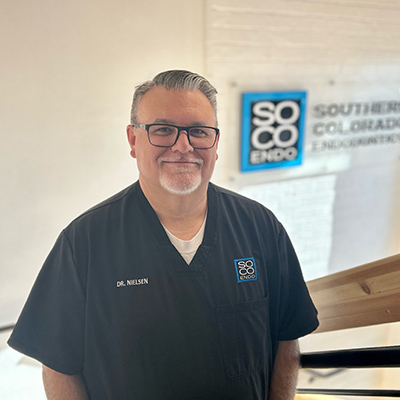 Gregory J Nielsen, DDS
Dr. Gregory Nielsen is a Colorado native. He was born and raised in Littleton, Colorado. Dr. Nielsen earned his Bachelor's degree in zoology from Brigham Young University, and then attended the University of Colorado School of Dentistry, graduating with his Doctor of Dental Surgery degree in 2004. Following graduation, Dr. Nielsen practiced general dentistry for 10 years in Las Vegas, Nevada. Not long after opening his own practice, he discovered his love for endodontics and decided to go back to school to specialize. In 2014, Dr. Nielsen was accepted into the University of Nebraska Lincoln's endodontic residency program where he received his post-doctoral endodontic specialty certificate. His love for Colorado and the mountains brought him back in 2017 and he was finally home.
As an endodontist, Dr. Nielsen's goal is to provide exceptional dentistry and using the most up-to-date procedures and materials available, in a comfortable environment. He loves what he does. Dr. Nielsen has great respect for his profession and continues to advance his education through seminars and continuing education classes. He is always wanting to learn more so he can provide the most accurate treatment for his patients. 
Dr. Nielsen is a very caring specialist and believes he can make a difference in his patients' lives by offering the patient opportunity to be active in their treatment decision process, educating them as to how they can have a healthy smile for life. Dr. Nielsen and his wife have 4 children. He enjoys spending time with his family. You will often find him at one of his children's sporting events. He served a two-year proselyting mission for the LDS church in Argentina, where he became very fluent in Spanish. Dr. Nielsen loves fly fishing and anything outdoors. He is regularly researching for the next best place to go fishing. He has a contagious laugh and enjoys a good, funny video.